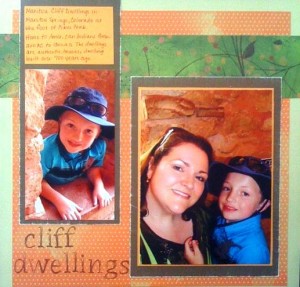 Are you scared to Journal?
Don't know what to say?
Here is help because I've been there before too!  In my opinion – my scrapbook tells a story.  If you just put a bunch of pictures on pages that is considered a photo album…not a scrapbook.  I like to think that my scrapbook tells a STORY.  The 5 W'sare the most basic way to start with your journaling or story telling and they are listed below: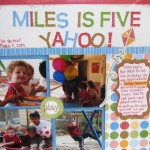 1. Who?
2. What?
3. When?
4. Where?
5. Why?
It can be as simple as writing Jane, School Play, March 10, 2011, Austin, TX  or if you want to "kick it up a notch" consider some of the following ideas to help tell your story.  You want to remember that the person reading your stories could potentially be someone one hundred years from now that has never met you.  I remember looking through a big blue trunk of photos with my mom and sister growing up and we had no idea who was in most of the photos.  All it would take was jotting something on the back of the photo but most do not take the time.
When explaining a photo, you can write about what is in the photo BUT you can also write about what IS NOT in the photo…had someone recently died?  Was someone special deployed? Was there a recent divorce? Was someone sick and not able to attend the event?
How did you feel when this photo was taken?  How did others feel?  Did something happen at this event that brought back other memories?
Use your senses – hearing, smell, feel, taste
Why was this photo/event important to share?
Ask others for their input…for instance at a birthday party ask others to write a special message to include in the scrapbook.  You could even theme it with "write one word that describes the birthday girl" or "write why you are thankful to have the birthday boy in your life" – hand out index cards or have a "guest" sheet for everyone to write a special message.
Was there something significant that happened before/after the photo was taken?  Did something funny happen?
Use stickers or rub-ons with sentiments for journaling as well.  There are some wonderful sentiment books out there also.  In the photo above I wrote my journaling on an already printed sticker.
Give your journaling a theme…like a police report or a sports story
Create a "Top 10" list for the page – for example  "top 10 things I love about you" or "top 10 favorite songs"
Sometimes it is neat to go back and add more journaling to books – when you look back at things you created years ago and reminisce, sometimes other memories come to you that you want to capture.
Use a Question & Answer format – this works well with heritage type albums.  Sit down with grandparents, parents, or children and ask questions.  This is fun also with children because you can create a list of questions and ask the same questions every year – it is interesting to see how the answers change as the child grows up.