Hello world!  I hope you are having a great start to the new year.  I wanted to share some recent artwork that was created for a few swaps I participated in for Christmas and Valentine's Day.
This first piece is the Handle Top Box on pg. 44 of the Close To My Heart Artiste Cricut Cartridge.  I cut the box at 4″ with a retired paper pack called Pear and Partridge.  I used Ruby and Olive ink for the stamped images and the background shape was from the Artiste cartridge on pg. 33 cut at 1 3/4″.  I used the D1565 Laughing Lola card making workshop stamp set for the sentiment.  Of course, this little treat box can be used for any occasion – or no occasion at all!  It was super easy to put together and the cartridge comes with a how-to-assemble booklet that has very easy directions for assembling the 3-d items.
Aren't they cute?
The next project was another cricut project (they are sooo easy!) and it is the card on pg. 73 cut at 3 1/2″.  I used the retired Avonlea paper that is actually available on the "While Supplies Last" section of my website and a stamp from the Wonderland WOTG.  The ink used is Indian Corn Blue, Chocolate, and Slate.  It could be used for tea, coffee, or hot cocoa.
This last project was a Valentine and the stamp was the hostess set with Washi tape images and the heart is from an old, old stamp set from many years ago.  I used pink paper from the retired Roxie pack and some sparkles.  I didn't take a photo of the back side but I stamped it with a "To: and From:" and used the new gold dotted wash tape that comes out in the new catalog that goes live on FRIDAY!  YAY!  Be sure to check my website on Friday and you can see the online catalog.  It has lots of fun stuff and I'll post all about it on Friday!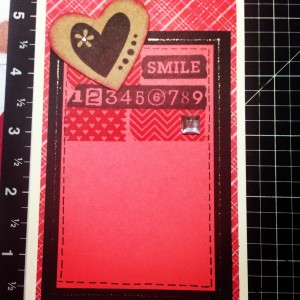 The next couple of photos is a Christmas gift i received from my Mom.  It is a train that she created from a SVG file she made.  It is super cute and I loved having it displayed for Christmas.  She worked really hard on it and I appreciate it so much! Thanks, Mom!
And finally, the next photo is for my Mary Kay business.  I made cute little gifts that my customers purchased for their friends and family.  Again, I used the stamp set from D1565 Laughing Lola card making workshop and I purchased the curly ribbon and bags from mygirlfriendshouse.com that has tons of cute business supplies that I use for all of my Mary Kay gifts.  I thought they turned out really nice and my customers loved them!  I primarily used lip glosses, satin lip sets, and the eye shadows from our new Mary Kay @ Play line – love it!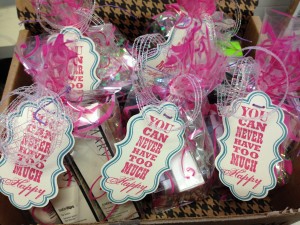 Thanks for hanging on until the end of this long post!!  I appreciate you and hope you found some inspiration! Leave me a comment so I feel the love!