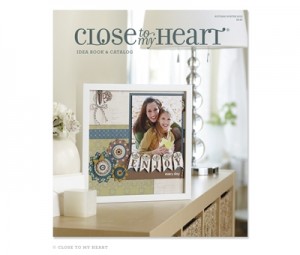 This post is two-fold.  Item #1 is that I want to share that the new Close to My Heart catalog and Idea Book is now active for Fall/Winter on my website.  There are tons of new products, our ink colors have had an update – including the addition of six new dye based ink colors and Pigment ink stacks.  I'm also excited about the new alcohol ink markers that will be released soon so keep checking the website.   There are more Workshops on The Go than ever before (including a Scroll Album, an Advent Calendar, Spellbound Halloween workshop and two new Card Workshops!), and the new My Reflections Paper Packs just might be the best I've ever seen!  They are all beautiful but Avonlea and Dakota are my favorite.  I love the wood-grain paper in Dakota.  Be sure to look closely because even though papers may appear to be "meant" for one type of "theme" the back sides of the paper are more generic and can be used for anything!  Think outside of the box, mix-and-match, and just have fun with your creativity.  The last, and BIGGEST announcement, is the release of another CTMH Exclusive cricut cartridge called Artiste that is AMAZING!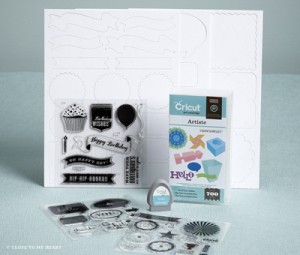 You have to see it to believe it – 700 images including wonderful 3-D projects, party favors, interactive cards, awards, and more! From robots and spooks to weddings and Valentines, your cupcake wrappers, invitations, and party essentials will coordinate and come together for any celebration! Includes a step-by-step assembly booklet for the 3-D projects.  The photo below is the entire bundle – three stamp sets, three sheets of Dimensional elements, and the amazing cartridge!
#2 is I had the pleasure of helping a friend with an anniversary gift for her parents and I am so pleased with how it turned out!  We used the Dreamin' paper pack which unfortunately is now retired (but I still have some in my hoard  "collection" and it looked nice with her parent's photos).  Of course, when you make your own project you can use any paper pack that coordinates with your photos.  My friend already had the frame but you can buy shadow-box type frames like this at Hobby Lobby, Michaels, Target…etc.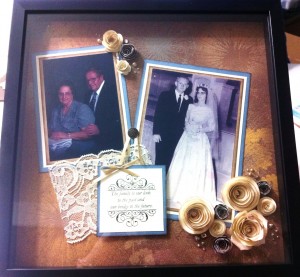 I made quite a few flowers with the exclusive CTMH cricut cartridge – Art Philosophy using chocolate paper and colonial white paper.  I inked the edges of the lighter flowers with chocolate ink as well.  I also used the Mocha Opaques Adhesive Gems (pearls) and a few Brown & Tan sparkles as well.  I adhered the flowers with Liquid Glass – my "go to" glue.  I even used it last week to repair my son's flip-flops!  My dad first used silicon glue to stick the sole back together and it didn't hold – but the liquid glass is holding great!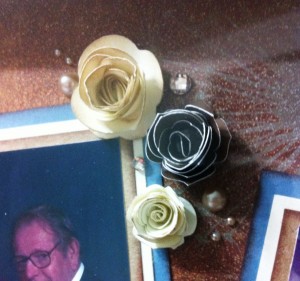 The stamp set used for this sentiment is "Family Love" and I used black Staz-on ink since it is light-fast and more archival than the typical dye inks.  I used some random lace that I had for extra texture behind the sentiment.  I felt the sentiment was perfect for the photos used – what do you think?  Past and future…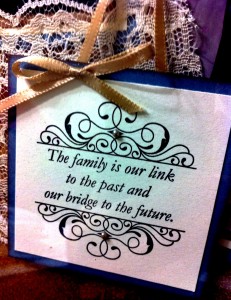 After you have browsed my website and the new goodies – leave me a comment and let me know your new favorite product (or your top ten favorites if you have a hard time choosing only one like I did!) As always – there is an exclusive August Stamp of the Month "Baroque Borders" which is featured in the artwork below