I just returned from four fun filled days creating and learning at my Close To My Heart convention in Dallas, Texas.  Let me tell you – I am on information overload.  I am so glad I gave myself a couple of extra vacation days so I have time to absorb all of this before I go back to work (my day job – not my fun CTMH work!)  It was amazing to see our CTMH founder, Jeanette Lynton, in real life and also enjoy the fun chemistry between the other support team from our corporate office.  We laughed, we cried, we cried some more and just really enjoyed every moment! (except that last hour when I locked my keys in my trunk when loading my luggage and had to wait for pop-a-lock to come to the rescue.)
My friend Christi was so gracious to wait with me while the locksmith was on his way and we took some hilarious pictures so we can do a "10 Things to Do while waiting for Pop-A-Lock" scrapbook layout!  You have to make the best out of every occasion and we definitely were cracking up with laughter during a situation that would not have been fun if I was all alone.
The biggest information of the conference is of course the revealing of a new CTMH exclusive cricut cartridge called "Artiste" and it has almost 700 images – including an alphabet, many 3-D items, more rolled flowers (YAY!), lots of holiday designs, and much more!  We also still have the amazing "Art Philosophy" cartridge that has new coordinating stamp sets in the new catalog. Here is a sneak peek of the collection (below) that retails for $99 and is available for purchase on my website after August 1, 2012.  Once again, you receive three coordinating stamp sets, three sheets of dimensional elements, and the amazing cartridge just like with "Art Philosophy".  On the stamp set carrier each shape shows the size to cut as well as the page number you can find the design in the cricut booklet.  There are also eight new paper packs, card workshops, 3-d items, and a home decor Spool Album workshop on the go!  One other tidbit is our color palette has been updated with new colors we retired colors.  We have also added pigment inks and alcohol markers!  I'm super excited to have the new products to share with all of you.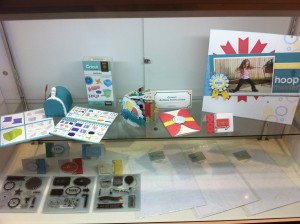 We were given supplies to make lots of projects but I could not find my mojo except for Saturday night when I completed this layout – all I need to do is drop in some photos.  It is made with the new My Reflections Clementine paper pack (Available Aug. 1) and we also used a stamp set that will not be in the catalog as it was a gift to all of us at convention.  The next photo is a picture of our first make-n-take session and we had lots of fun scrapbooking with more than 1000 of our sister consultants.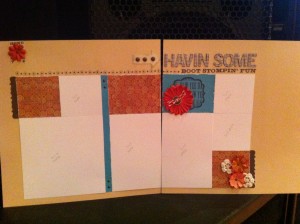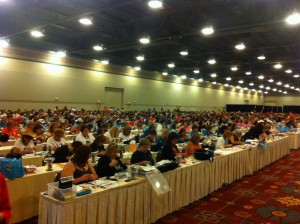 We enjoyed goofing off while waiting in line for events and walking to our classes and we could not resist taking a photo with this interesting statue at the Hilton Anatole in Dallas!  Gotta love it!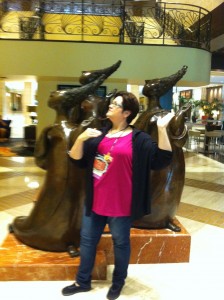 During our formal awards banquet on Friday evening we were entertained by The Texas Tenors.  Three GREAT looking guys performing to a room of thousands of women and a few men was lots of fun!  Christi and I changed out of our glitz and glamour and headed downstairs to hang out and who do we run into and take an advantage of a photo op?  That would be the very cute Texas Tenors!  The guys are in the back in the cowboy hats – kind of hidden behind all of the estrogen…LOL.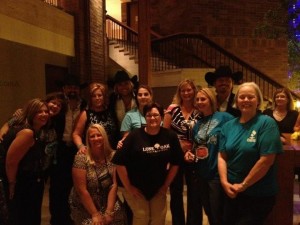 The last day of convention is called Extravaganza.  Extravaganza was a little overwhelming as we learned TONS of things from the new catalog during eight fast and furious classes showing artwork and techniques.  This is L-R my friend and team member, Christi Murray, Dr. Phil Wilhelm – CTMH Director, and myself.  If you want to watch funny videos, check out Dr. Phil on YouTube.  He cracks me up!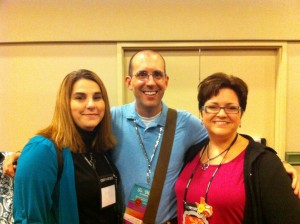 The highlight of my convention was finding Sticky Boy!  Sticky Boy is the prototype for the CTMH My Acrylix stamp sets years ago and each convention the corporate staff hides Sticky Boy stamps in various places for consultants to find.  Christi had an issue that required her to go to the information booth and while we were leaving I found a sticky boy stuck to the marble steps in the room!  YAY for me!  I found the next to largest sticky boy and he found a home in my name badge for the remainder of our time in Dallas.  This year's Sticky Boy has a cowboy hat, bandana, and sheriff star.  I'm thrilled to have found him – isn't he cute?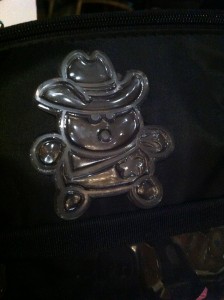 Thanks for hanging with me to the end of this message!  If you are interested in ordering the new products, visit my website today for the current catalog or on August 1st to see the new products – http://wleal.ctmh.com and shop to your hearts content!  I only touched on a few of the new items – there are hundreds more to see in the new idea book!  Have a blessed week and I look forward to reading your comments when you check out the new products!