Happy Wednesday!  I spent a wonderful weekend in Gainesville, Texas, at a scrapbooking retreat with one of my BFFs Christi and 40+ other scrappin' friends at the Lone Oak Retreat Center.  When I arrived at the retreat I had a nice collection of goodies that the ladies had made for me!  Here is a sampling of the first round of goodies: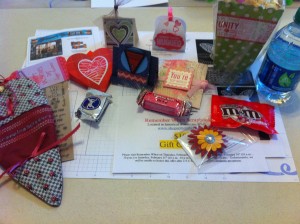 Because we were so close, Christi and I made a short drive to WinStar Casino in Oklahoma.  It was a lot of fun and I hope to go back again sometime.  The retreat location is so peaceful.  I loved walking outside and smelling the fresh air!  This is the view standing in the doorway of my room:
I did manage to create a few projects while I was there and this one is my favorite!  It is going to be the cover page for my cruise album (sorry about the glare on the photo).  It is made with the Roxie paper pack and the cork alphabet.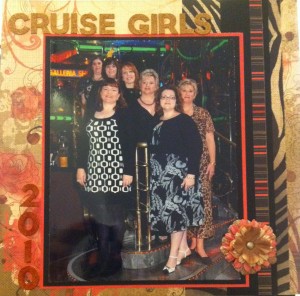 Also – I hope you had a Happy Valentine's Day – here are a couple of cards for your viewing pleasure!  The first one was my husband's card and the second card was made for a Valentine's Day card swap.