I hosted a weekend retreat with several of my scrappin' friends last weekend and although I was not as productive as I normally am I still managed to finish a couple layouts.  The reason for my decreased productivity is that I received the new Close To My Heart catalogs for the Fall/Winter season and all I can say is WOW!  I am super excited to announce that CTMH has partnered with Provo Craft to release an exclusive Cricut Cartridge called Art Philosophy.  I will share more about that later, but for now, I'll just share some projects I finished.
The first layout is with Olivia papers (love them) and I used the Irresistibles dimensional elements from CTMH that are white with an embossed shiny image.  I used sponge daubers to add color to the shape and the shiny embossed image resists the color and shows through like magic.  What do you think about it?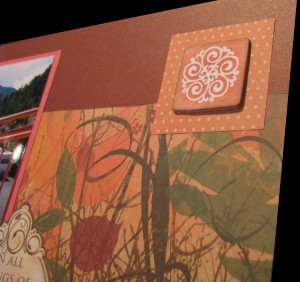 For the second layout, I used the Eclectic alphabet Irresistibles chipboard alphabet and used three colors to make it have a rainbow effect.  I first sponged Olive ink all over, then added Vineyard Berry to the top and finished them off with Outdoor Denim ink on the bottom.  I love how they turned out!  They are easy to attach to your layouts with Glue Dots – they come in different sizes and widths to work with almost any project.  Don't forget to comment and let me know what you think!!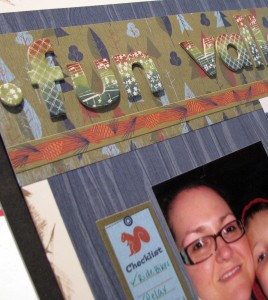 Check out this YouTube clip CTMH created about the new Cricut Bundle.  Cricut scrapbooking is awesome!