I recently participated in an "Altered Item" swap and was fortunate enough to be chosen to make a gift for my friend Christi!  If you are thinking "What the heck is an 'altered item' it just means to take something and use scrapbook paper or art supplies to turn it into something cute – and to "swap" means that we sign up to participate and names are drawn to determine the person we create a gift for!
I love tea – hot, cold, green, black, whatever!  I purchased some tea at Central Market that came in a neat metal can and I thought that it would be something fun to alter!  I took the label off the can, washed it out and let it air dry.  I used Liquid Glass (LG) to adhere the paper to the metal – LG is like super glue for scrapbookers…it is super strong and sticks to just about anything.  There is also some chocolate organza ribbon from my ribbon stash.  Because I'm in love with the Dreamin' Paper and it looked okay with the green on the lid of can I selected it for this project.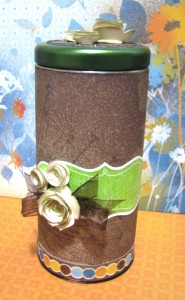 I also am in love with the CTMH exclusive Art Philosophy Cricut Cartridge and used it to make the cut-out image stamped in Pear ink as well as cut the gorgeous flowers that I adhered to the top and front of the can.   I distressed the edges of the flowers with Desert Sand ink and used LG to glue them down.  I used the new bronze Glitz Glitter Gel on the top of the can too.  Isn't it pretty?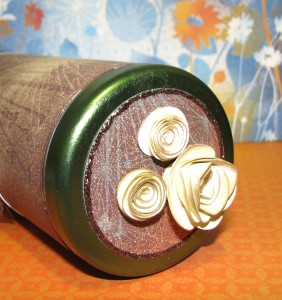 And…because I'm awesome and so is my friend Christi…I made her an extra little Mini-Album that coordinates with the cute container.  It can also be considered an "altered item" because I used squares cut from a cereal box to make the front and back cover and covered it with the Dreamin' paper.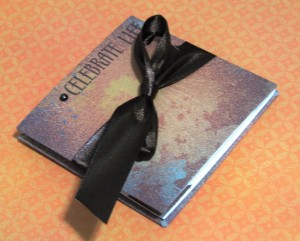 I learned how to make this cute little album at the recent Creating Keepsakes Convention.  It was a make-n-take project and was pretty quick and easy once you get all of the paper cut.  I'll show you some more of the details in the next pictures.  I used a retired CTMH acrylic stamp set C1287 Celebrate Life for the sentiments in this mini album because it just felt right to me for this gift for Christi.  The ink colors were Chocolate, Crystal Blue, Lagoon, and Honey for the stamping.  I also added some Mocha opaques self-adhesive pearls to give it a little more embellishment.
I'm putting together this mini-album as a workshop that I will be teaching soon – watch for details!  I sure hope my friend likes this…if not, I'm keeping it for myself!