Happy November!  This time of year is so special as we are heading into Thanksgiving and Christmas holidays.  Having a young son makes the season so magical and I cannot wait for all of the yummy food and great fellowship with our family and friends.  I am thankful to be so blessed!
October was a whirlwind in my world – from scouting and school/work events to scrapbooking retreats I barely had time to catch my breath.  I did get to spend a weekend attempting to scrapbook at a retreat I hosted but spent most of the weekend on the couch reading a book or sleeping because I caught some sort of cootie and felt yucky!  Here is an anonymous photo of several of my fellow scrappers…since we don't get all glammed up for scrappin' I wanted to make sure you couldn't pick us out of a line-up…hence the smiley faces!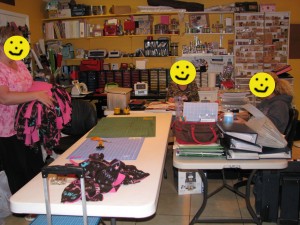 My main goal at the retreat was to finish my Christmas Card swap.  I used a retired but CUTE stamp set from Close to My Heart for this card called Ms. Holiday Cheer plus I used Fun Flock for the first time ever and boy…it was messy!  I wanted to give the fuzzy look to her coat so it was worth making the mess.  I first applied a little liquid glass and then sprinkled the fun flock over it.  I pressed gently to make sure the flock stuck well but I never mastered the art of not getting it all over everything.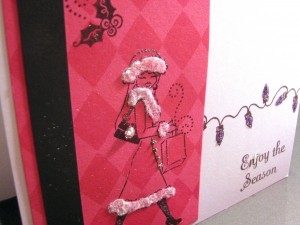 Here is the full image from the front of the cute card.  I used white Fun Flock, sparkles for her purse and on the sentiment, platinum for her suit buttons and purple stickles for the Christmas lights, and black ink.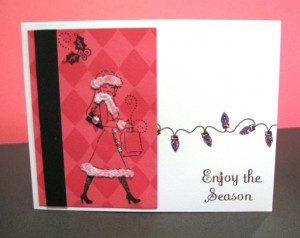 My son wanted to play when he and my mom and aunt came to visit during the retreat so here he is at my cluttered work station while I was assembling my cards.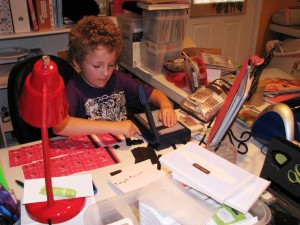 All in all, even though I felt pretty cruddy, I got some stuff accomplished and got to spend time with some of my favorite people.