My friend hosted a scrapbooking party this weekend and our project was a cute birthday card.  Since it was a holiday weekend and I still had a little mojo left and I made some additional cards on Sunday and Monday.  I think I'm in love with paper flowers!  With this new Cricut cartridge it is really way too easy to make the pretty little roses!  On the one you see below, it was cut from colonial white cardstock and I used a sponge dauber to the lightly ink the edges with Chocolate ink.  It gives it more dimension!  I also use Liquid Glass – i just put a big blob of it on the flower base, arrange my petals with tweezers, and hold the flower until it starts to "set."  (BTW – Liquid Glass is like the "super glue" of papercrafting!  It ROCKS!)  You can also use the rounded finishing file to curl the petals down – I will do a flower tutorial soon so you can see what I mean!
There are two different cards below.  The first card (with the cute little rhinestone button) was created for the party project and several friends attended.  It was neat that everyone's card looked different even though we all were using the same supplies.  I love that about scrapbooking, don't you?  The second card was something I created that is a little more embellished (I'm all about the bling!)  The mocha opaques pearls just might be one of my favorite embellishments!  They already have adhesive on them so they are quick and easy to use.  Oh – and how about that bling rhinestone button?  Super cute, huh?
Here is a little close-up of the flowers and pearls.  I also used 3-d foam tape to make the sentiment shape raised up from the card.  The shape that the sentiments are stamped on is also cut from the Cricut cartridge.  I'm having fun with all the possibilities!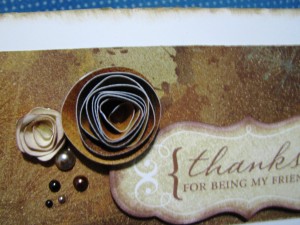 The supplies used in the projects are: